'Tis the season to move! I had the honor of shooting another family session focused on documenting memories in San Francisco before a move! I understand. I first visited San Francisco at age 19 and absolutely fell in love. I knew THIS was the city I wanted to be and made it happen 2 weeks after I graduated from college. I was motivated. I had been trapped in the middle of corn fields in college in Ohio and needed urban living and SF was the city for me! And it was my home for 20 years, but everything changes when your children reach school age and you re-evaulate. I understand the need to hold on to this beautiful city and the memories made here, especially when it's the city where your children were born. Just moving from San Francisco to Oakland was hard for me emotionally, so a move across country is big.
Before making this major transition back east, this wonderful family whom I met when our children went to preschool together, decided to document some moments together in SF. San Francisco was home for them for a long time, so I was excited to help them document the places that were most special to them! We set out for a morning adventure at Baker Beach and then on to The Palace of Fine Arts - two amazing locations and we...had...a...blast! The girls enjoyed playing and exploring and I loved capturing all of it!
We started at Baker Beach where the clouds in the sky were incredible! All week long the weather was predicting fog (typical SF!), but we ended up with a beautiful and sunny San Francisco day - perfect for the beach! And a perfect San Francisco day to remember. The girls found all kinds of interesting places to check out and we played some fun and silly games as we made our way down the beach to the rocks.
Both parents participated in the Escape from Alcatraz Marathon, so the sand stairs were special to them after having to run up them after a long swim! So we made sure to capture some special moments there.
We made our way to the rocks and had lot of fun climbing, exploring, and later dipping toes in the ocean! Yes, it is freezing, but with the warm day, it was enticing! And the landscape here is just incredible! THIS is why I love the Bay Area, such gorgeous scenery!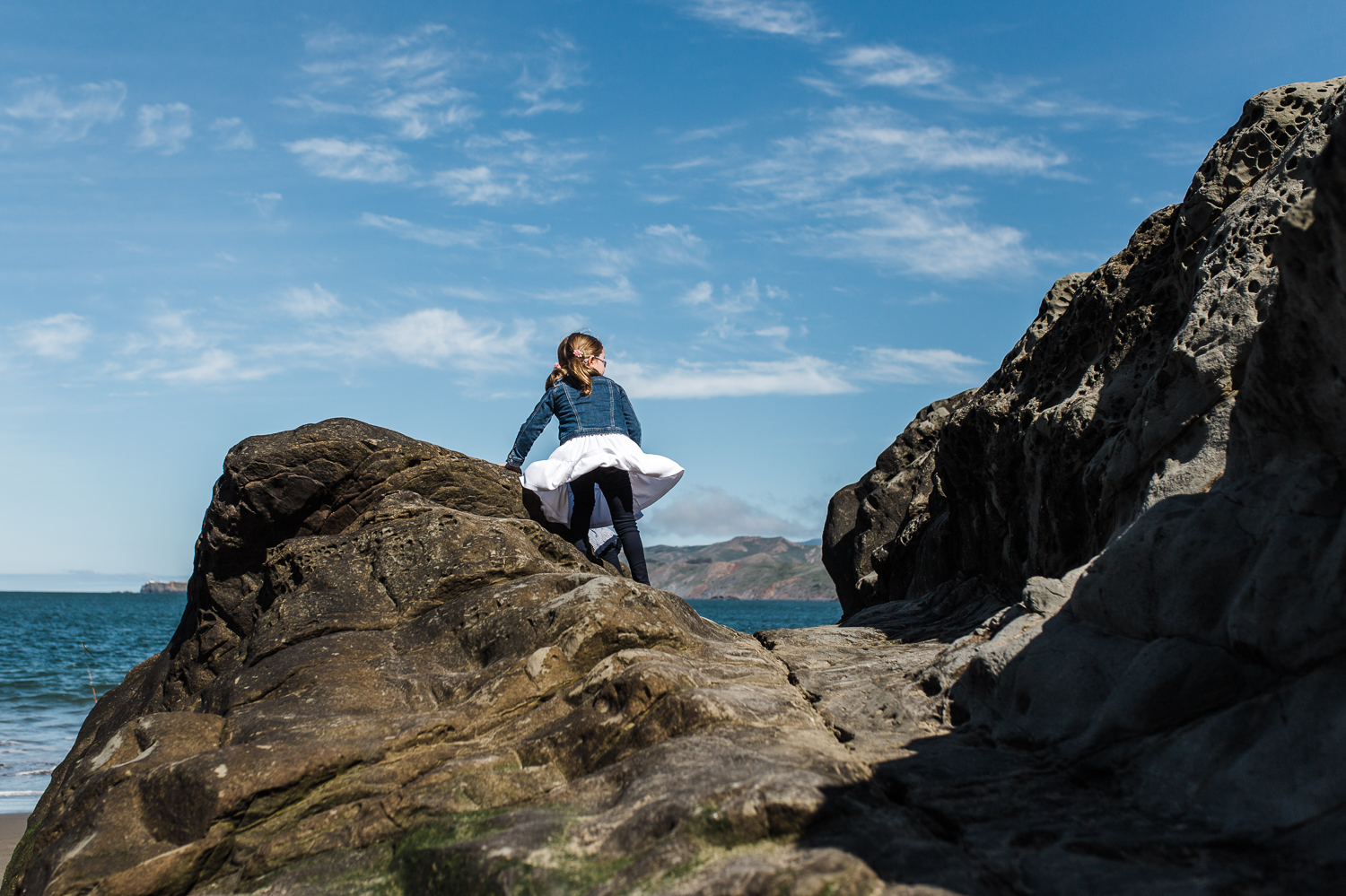 Everyone enjoyed the rocks and, while a little tricky to maneuver with a camera, it was well worth it. One thing I always love to capture in any family session are the details; the little things that children notice or that are special to them such as a lovie, or adorable shoes. It's these little things that we don't want to forget as parents and that make kids, kids.
Our day was not complete without a visit to The Palace of Fine Arts, place close to this family's heart as they lived closed by and visited frequently. And these doors are so fun and even better when you are getting a lot of love from your girls!
I'm grateful I was introduced to this incredible family who have become good friends. I wish them the best on their journey and really hope they come back for a visit soon! And when they do, they found their ride - 80's style ;)!